As a forward-thinking company committed to driving New Zealand forward, technology quality assurance and business optimisation services provider Assurity Consulting (Assurity) is not only working toward gender equality sustainability goals, but also measuring and reporting its progress towards ending remuneration discrepancies. CEO Steve Mitchell says that as the company celebrates International Women's Day on 8 March, it is putting its money where its mouth is and not only sharing its own pay gap but continuing work towards closing it for good.
"Assurity Consulting was founded on the principles of doing the right thing, creating value, and rewarding talented people fairly for their contributions. We've had the gender pay gap in our sights for several years and have made real progress towards eliminating differences, particularly as our People & Capability team has stepped up the focus as part of our sustainability journey," Mitchell says.
Currently, Assurity reports its gender pay gap as 4.93% in favour of men. The New Zealand Public Service Te Kawa Mataaho puts the gender pay gap in New Zealand at 9.2%f[1], while further noting that pay gaps for Māori, Pacific, and ethnic women are wider than for European women. The gap in the digital sector is estimated by the International Labour Organisation[2] to be as much as 21%.
Assurity General Manager, People and Capability, Aron Chantelau, says while progress has been made in closing the gap (see below chart), a variance remains largely linked to an inconsistent gender balance in some highly specialised technical roles which have a higher remuneration band and a gender imbalance at a company leadership level. "Knowing why there's a difference is as important as knowing what that difference is," he says, "Because that is how we will move to support closing our gap in the years ahead through targeted initiatives."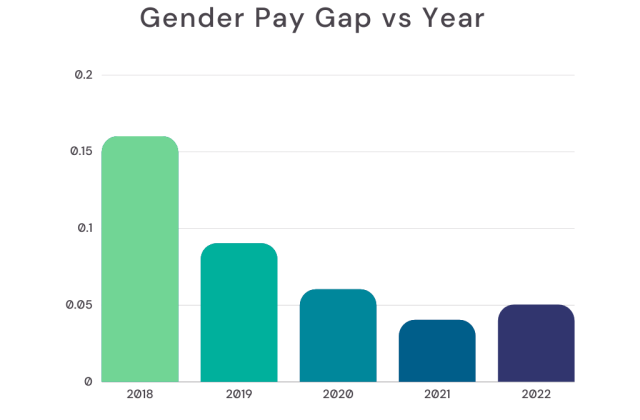 Credited with driving gender and pay equality at Assurity, Chantelau points out that the company has 43% female representation operationally and 47% in the broader leadership group.
While there is no universal approach to gender pay gap reporting, the company draws on a similar methodology to that used by Statistics New Zealand which uses the median hourly rate of female versus male employees. "We've chosen to benchmark ourselves against the Statistics New Zealand published data and have included the value of Kiwisaver in our median hourly rate calculation. As we improve our internal reporting mechanisms, we may broaden the definition further to include things like the value of incentives and cash and on cash benefits," Chantelau adds.
The 4.93%, then, is the median hourly rate (inclusive of Kiwisaver) of females versus males.
Chantelau says the majority of Assurity's people are skilled technology professionals, a sector known for its gender equality challenges. "That hasn't stopped us from putting the issue firmly on the agenda and taking strides towards resolving it," he notes. "We've decided to enhance the focus by holding ourselves to account, being the change we wish to see, while setting an example for other technology organisations by introducing pay gap reporting which will happen on a regular basis."
Additionally, Mitchell says the company is establishing a governance framework to support measurement and initiative tracking in support of gender equality, while reviewing recruitment practices to understand and remove unconscious bias, and better define leadership capability requirements to hire and promote the best people into leadership roles irrespective of gender.
"Our proposed target is a 0% gap within 3 years. We know that measuring and reporting drives meaningful change; we're already well on the way and I'm confident that continued conscious effort makes our target achievable."
With International Women's Day themed 'embracing equity', Mitchell leads the company in celebrating women's' achievements, while raising awareness about discrimination and taking action to drive gender parity. "It's only fair," he concludes.
For more information about Assurity Gender Pay Gap Reporting, please visit here.
[1] https://www.publicservice.govt.nz/system/public-service-people/pay-gaps-and-pay-equity/
[2] https://ilostat.ilo.org/techs-persistent-gender-gap/
About Assurity Consulting
Assurity Consulting helps clients confidently innovate, transform, and grow their businesses.
Over 150 consultants offer a wide range of expertise, including Business Analysis, Strategy, Design & Innovation, Software Testing, Quality Assurance, Ways of Working, and Education.
Their customer-centric approach maximises value creation and reduces project risk by ensuring that only the ideal solution is developed and delivered right every time.
Established in 2005, Assurity is proudly Kiwi owned, with offices in Auckland, Wellington, and Christchurch.
Having completed over 2000 projects successfully for some of New Zealand's largest organisations, Assurity has the expertise to help you boost productivity and thrive.
Media contact
Cassandra Ong, GM, Marketing, Assurity Consulting